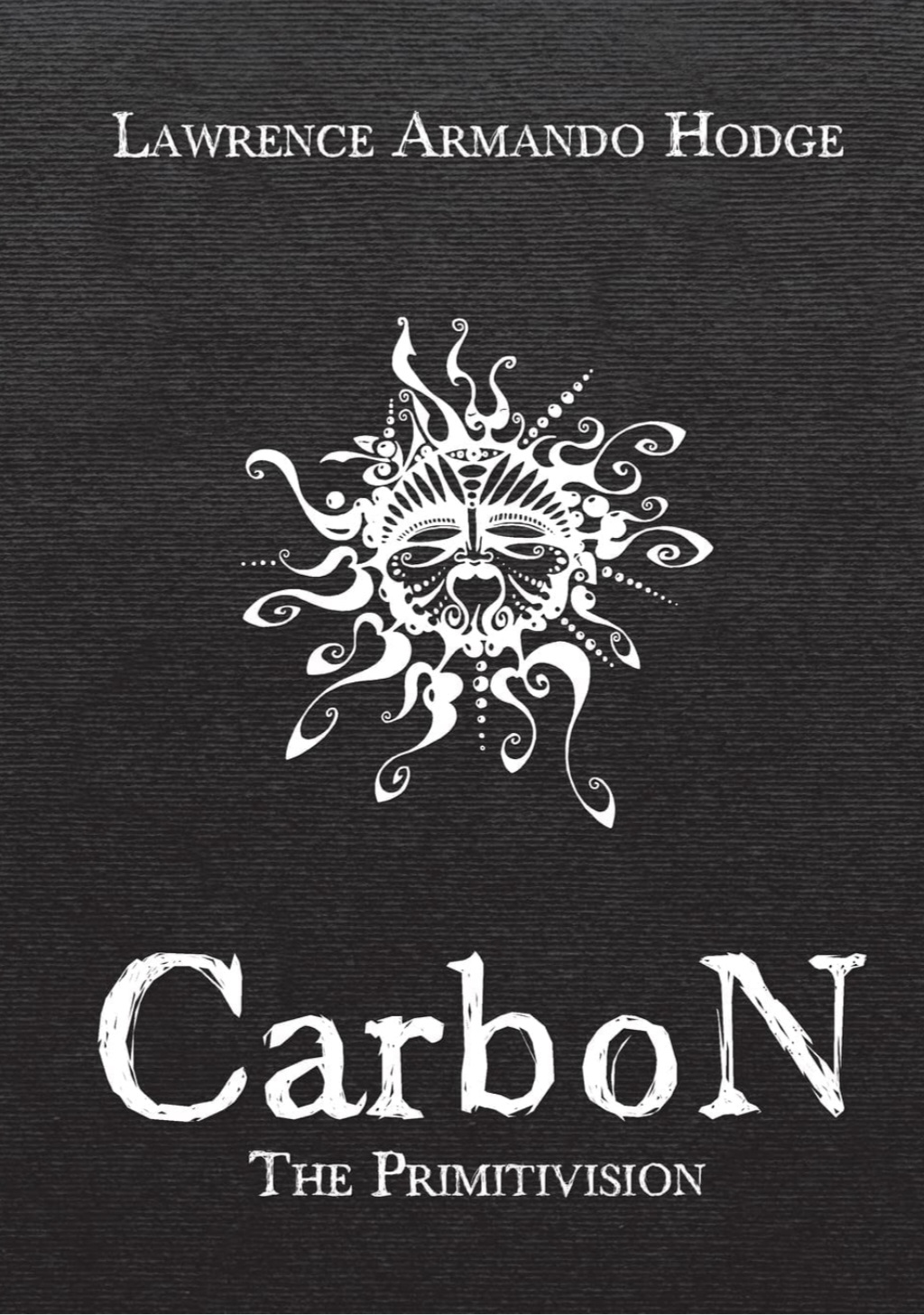 CarboN The Primitivision by Larry Hodge
Review:
Seattle Book Review – 5 stars
CarboN: The Primitivision is the premiere art book by Lawrence Armondo Hodge (aka CarboN). His new book is a collection of CarboN's work from 1989 to 2021. This Bay Area native drew his inspiration from many cultures, styles, and art genres. As viewers flip through the pages of his book, it is easy to detect design hints from many civilizations and other artists. Mythological and natural forms can be seen in his drawings and figures from his imagination. The book spans thirty-two years of CarboN's creative process. This book is broken down into four sections, showing the evolution of CarboN's stylings.

This book takes the viewer through the years of his progression. Browsing through each section, one gets a sense of how CarboN's art developed. His early works could be considered flash art. The pieces seem to be smaller and simpler but also detailed. The inkwork is lighter, and the art contains more open spaces. Later works tend to be more complex and abstract. Many later works are very involved, and CarboN explores the whole page. The lines get heavier and darker. At first glance, these larger pieces look like elaborate doodles, but the longer one studies them, the more one sees.

It has been said that all art should evoke emotions. CarboN's works are no exception. Primarily black and white, some works are repetitive, giving them an Escher-like feel. Others are more in the style of Aubrey Beardsley. With the wide range of influences CarboN cited as his muses, it is hard to put a hard label on his works. Though, if I were to give them a genre, I would have to call his art psychedelic tribal with hints of surrealism and abstractism. It is not hard to lose oneself in the pages of this book for hours. Viewing the later works can be an all-day endeavor. The longer one explores these works, the more one will find.

The beauty of CarboN's art is on full display in this book. It is well crafted yet simple and elegant. This publication would be a great addition for anyone who collects art books. CarboN holds off explaining his pieces, allowing the viewer to put their thoughts and emotions into how the art makes them feel. This book would be great as a conversation starter, for casual viewing, or in-depth meditations. Aspiring artists could draw motivation from this well-done tome. CarboN: The Primitivision is a highly fulfilling viewing experience.

~  Eric Smith, Seattle Book Review
Buy the Book – Barnes & Noble
About the Author:
Lawrence Armando Hodge (aka ~CarboN~) was born in San Leandro CA on October 11, 1970 and spent much of his life in the San Francisco Bay Area. He has been consistently honing his drawing style since the mid to late 1980's.
During his younger years he was drawn to art and design from a multitude of different cultures including Pacific islander tattoo design, Ancient Hindu and Egyptian design, Greek, Norse mythology, Celtic, Far East and Oriental, Japanese woodcuts, Native American, Islamic, and African Tribal.
Major influences include: Art Nouveau, Art Deco, Aestheticism, Vorticism, 1960's and 1970's psychedelic and Pop Art.