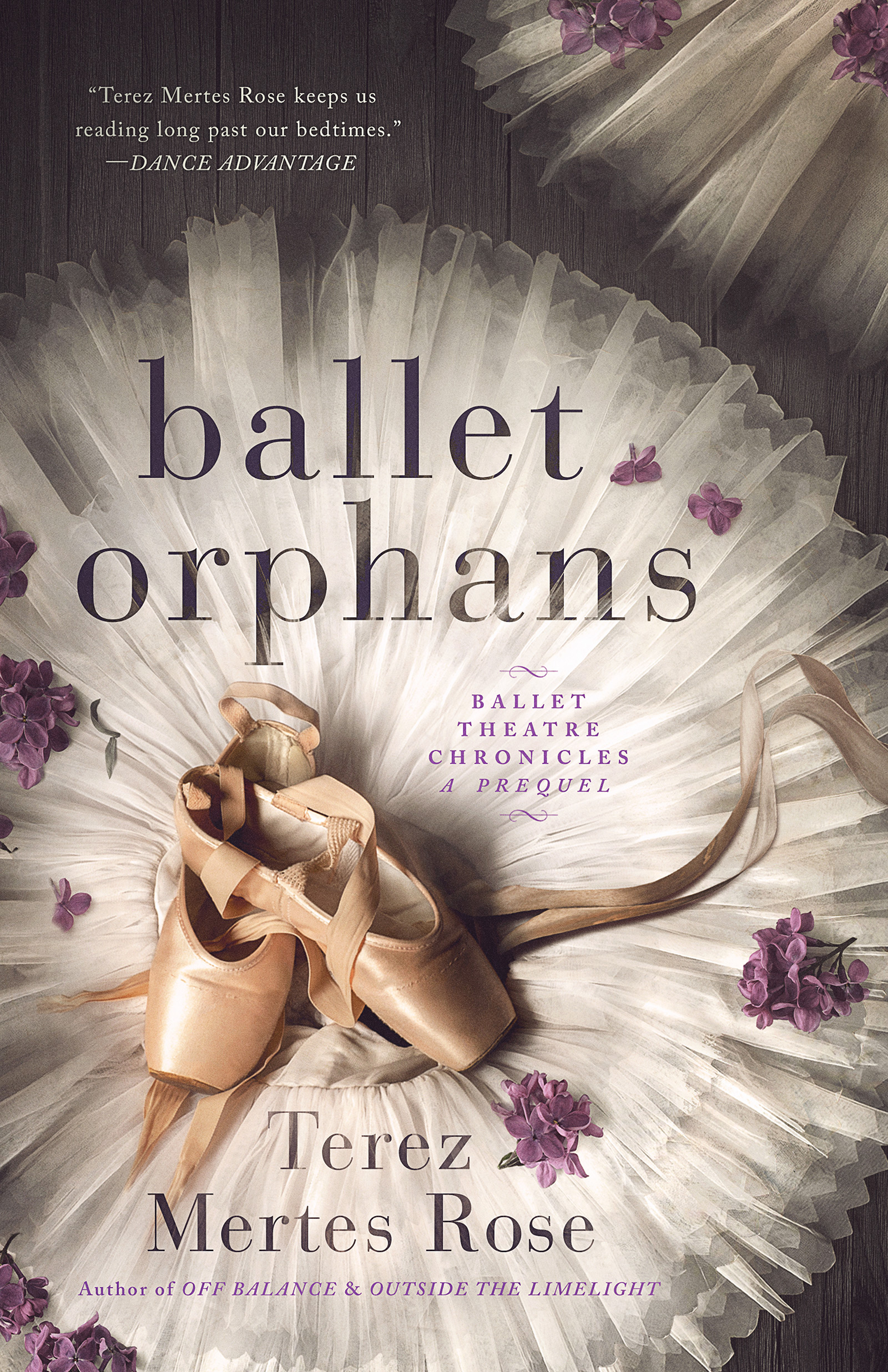 Interview with Ballet Orphans Author Terez Mertes Rose
Terez Mertes Rose is the author of the Ballet Theatre Chronicles and A Dancer's Guide to Africa. A former Peace Corps volunteer and ballet dancer, her writing has appeared in numerous publications, including the Crab Orchard Review, Women Who Eat (Seal Press), A Woman's Europe (Travelers' Tales), Literary Mama and the Philadelphia Inquirer. She reviews dance performances for Bachtrack.com and blogs about ballet and classical music at The Classical Girl. She makes her home in the Santa Cruz Mountains with her husband and son.
1. Which books/authors inspired your work?
Long answer: I own a few hundred books adorning multiple bookshelves in my house, some in my possession since my teens, some published in the past month. Each one has informed and enhanced my writing, either the author's voice or their storytelling skills, or both. It would be really hard to choose which one had the most influence.
Short answer: Adrienne Sharp's gorgeous ballet fiction. Stephen Manes' When Snowflakes Dance and Swear. Anything by Curtis Sittenfeld.
2. What's one thing that you learned while writing your book?
I learned a lot about the early days of Silicon Valley. It's crazy fascinating.
3. After this book, are you writing anything new? Where are you in the process?
I am working on a Book 4 of the Ballet Theatre Chronicles (Ballet Orphans is a series prequel and Book 3). I've gotten the basic story down and have written for months without judgment, so now it's a big bloated mess with a lot of sloppy writing. This is where the real work begins for me. I couldn't be happier. I prefer crafting and rewriting over the tricky creation of something out of nothing.
4. Describe your writing routine. Do you outline? Edit as you go?
I get up at 4:30am and start writing as soon as possible. Mornings are my best time. I try not to focus too much on outline in the beginning of the process because that kills the muse. But as soon as things gel, I do develop a chapter-by-chapter outline, just a sentence or two for each chapter. This gives me both structure and freedom. I edit some as I go, but I try not to "put on the editor's cap" like I do in the final draft. It kills the muse, for me, to get too nitty-gritty editorial too early.
5. What do you do when you're not writing?
Read, read, read. Attend to my household's and family's needs. And I'm an exercise junkie, and I love walking out in nature, so that's a chunk of my day too. It pairs nicely with the isolationist stress and sedentary nature of writing. It also gives me time to daydream. (A fiction writer's best friend!)
6. How do you combat/cure writer's block?
I give myself permission to write really bad stuff. We're talking really bad. But keeping the fingers moving is crucial to me. Occasionally my writing block (which has a lot to do with my mood, my spirits) is so debilitating, even that feels like a challenge. On those occasional days, maybe once a month, I give myself a break, find a book I love escaping into, and make it a "return to the bed and just read" day. Or I journal. I'm a nonfiction writer and blogger as well as a novelist, so, in general, there are plenty of different directions I can steer myself.
7. What advice would you give an aspiring writer who doesn't know where to start?
Just write. Stop talking about doing it, and just do it. Journaling. Plucking a subject out of the air and goofing around. Telling a story. A poem. Do it daily. Keep your goals small. Start with 20 minutes a day, every day. Use a timer. The fun thing about becoming a writer is that, provided you write daily, you're a writer. Every time you write, you're a writer. If it bores you to write daily, well, reconsider whether you want to be a writer. Writing sounds glamorous from a distance. It's actually more like shoveling dirt. The pay for your effort, financially, is peanuts. A writer writes because they can't not write. It's equal parts a blessing and a curse.
8. What was the most challenging thing about writing your book?
Making it not sound like the other two books in the series, and yet, not too different. They are all three set in the professional ballet world, which is quite specific. It's hard to come up with new ways of saying much of the same thing.
9. Are you part of any writer's groups or guilds? Which one(s)?
I've kept my presence in groups small after the early learning years, because it can become a convenient distraction, to talk/write about writing instead of going into a cave and doing the work. At this time, I'm part of an online writers' group called Backspace. A group of us have remained connected, via discussion forums, for something like 20 years. It's been an invaluable support.
10. Do you have a social media presence? Where can people find you online?
My blog, The Classical Girl (www.theclassicalgirl.com), is my biggest social media contribution, where I've written over 230 essays that have garnered over a million page views. I'm as committed to that as I am my fiction. That's where readers can find me, and find a variety of articles, essays, and dance reviews. They can also reach me via Facebook (as The Classical Girl) and Twitter (@classicalgrrl).
11. Talk about your main character. What are they like and what inspired their personality?
April is a great character; I like her a lot. She's got a good head on her shoulders and isn't as flamboyant as some of my other narrators. She actually showed up in the first two books of the series, years back, so I couldn't make up something out-of-character when it came her turn to narrate. She loses both parents by the time she turns 26, and left home at age 15 to train for a dance career, so she keenly feels the loss of family, which, in turn, makes her reflective, compassionate, in search of personal closeness. And a damned good dancer.
12. How does your main character change throughout the story?
She becomes less self-centered about her determination to make it to the top as a ballet professional. Still grieving the death of her parents and feeling alone in the world, she opens herself to new possibilities, new friendships, which play an enormous part in how she changes through the story. She grows wiser, tougher in some ways, and softer in others.
13. If you weren't an author, where do you think you'd be? What would you be doing?
I am so enamored with the ballet world, through my writing, and it's a love that hasn't died. So, if I were much younger, I'd go nose around and see if I could involve myself in dance administration, or it's equivalent in the world of classical music. I love being in those worlds, in any capacity. Then again, I was a Peace Corps Volunteer back in the late 1980s and the need to serve in a socially relevant fashion is still there, too. My career could have gone the way of the social services. The nice thing about being a writer is that pondering the path not taken is great fodder for writing fiction.
14. What is the most satisfying thing about being an author?
I love that I can believe wholeheartedly in the product I'm creating. I like working alone, and I like working on deep, involved projects. When I'm in the middle of creating a novel, I'm so content, and the rest of the world just falls away. I've never felt that kind of contentment in any other job. At the same time, it challenges me, a lot, in ways I've never found in other jobs.
15. How do you think your book can help people? What do you hope people will take away/learn from your book?
They get to learn about the "behind the curtains" world of ballet. It eternally fascinates me, and I'm always on the lookout for books that do this. There are so few. Readers frequently comment how much they enjoyed this glimpse of something they knew nothing about. The novel I wrote prior, A Dancer's Guide to Africa, is one I wish everyone would read. It's set in provincial Africa, the "real" Africa and not the one in the movies, loosely mirroring my two-year experiences as a teacher there, and it educates readers, in a fun, engrossing way, on what it's like to live in a dramatically different culture.
16. What made you choose the time/place in which your book was set?
I knew which year it had to be—1989 and 1990—because the chronology of the series was already set, from the other books. Likewise, the story is set in San Francisco, the same as the others, out of necessity.
17. What are reviewers/family/friends/other authors saying about your book?
I was happy that Kirkus Reviews called Ballet Orphans, "A stimulating and entertaining tale in which passion and art intermingle." And I liked the endorsement from author Kelly Mustian (The Girls in the Stilt House), who said that I usher readers "behind the scenes of the gritty and glamorous world of ballet and captivates us with a story that is ultimately about universal themes of loss, hope, belonging, and what makes a family." While I'm grateful that friends and family love the book and the series, it's endorsements from ballet professionals and administrators that mean the world to me, like Lauren Jonas, artistic director of Diablo Ballet, who said, "I could identify with [April's] struggles and achievements and I rooted for her along the way. A recommended read for all, dancer and non-dancer alike."
18. What type of person do you think would most enjoy your book?
I'd say females, age 18-60, but I've been surprised to find plenty of male readers engaging in the series. Then again, plenty of males are interested in the dance world. So, I'd say, any reader who is curious about the performing arts world and what really goes on behind the scenes. Readers who love ballet will love this book. Book club readers who want a smart, fun, intelligent, warmly romantic read without the cutesy nature of chick lit. Romance readers. Women's fiction readers.
19. How do you organize your book collection, if at all?
I don't. The books on my various bookshelves tend to be a disorganized mess. I don't care. They are all lovely books. I try to limit their presence to bookshelves, but they start to stack up and spill out into their own piles, and to make space on the bookshelf once again, I have to weed out the ones I won't read again. I hate doing that. It's like trying to weed out old friends. You'll miss them if you let them go.
You can buy Ballet Orphans from Amazon here – https://amzn.to/2RknEMd