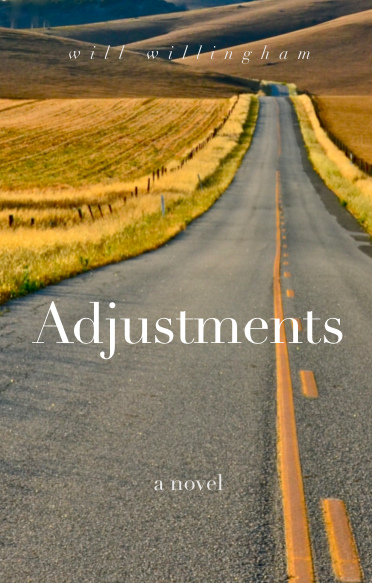 Adjustments: A Novel by Will Willingham
Gift Guide Book Suggestion #1
Book Summary:
By turns thoughtful and hilarious (even, inexplicably, both at the same time), this deeply Midwestern book quietly unfolds a vision for how to navigate in a world where we can't always resolve things.
It begins with an old man's call to the insurance company to get a minor house repair covered. Once the adjuster shows up, a journey both tender and tough is set in motion. These men need each other in ways it will take time to discover.
To complicate matters, the adjuster also needs (and is needed by) his aged landlady Pearl Jenkins. Theirs is a friendship both fraught and kind.
When the latest "outsider" from Minneapolis shows up to this small Dakotan town, with her non-approved hybrid car parked right across from Pearl's house, the cast of characters is almost complete.
Just add the generous appearance of colorful minor characters the adjuster works with and serves in his work (none of whom, arguably, are truly minor) and you're holding a delightfully satisfying book that, while it has you laughing, manages to quietly delve into the ways we bring people in and shut them out—on the job, in the town, or at the threshold of our hearts.
As much as the characters have a relationship with poetry and story (and they do), it is also a profound book about naming both the things that have held us back and the things we want, to move us forward—a book about choosing life.
Book Link – https://amzn.to/2DJMP0u
Review:
In Will Willingham's "Adjustments," Will Phillips is an insurance adjustor, working in the plains, hills, and valleys of South Dakota. He lives in a room of what was once a mansion but is now more of a boarding house. He has a give-and-take relationship with his 70+ landlady, Pearl Jenkins, who is part friend, part mother, part judge, part advisor, and full-time matchmaker who usually cheats at cards. So far, Will has resisted the matchmaking and gone along with the card cheating.

Will's work, like most work, involves a daily sameness. After a few years, insurance claims become similar. A fire is a fire, and Will can usually sniff out when it was accidental and when it isn't. Same thing for a stolen truck; even doctors are known to report a truck stolen when it's time for a replacement. Will investigates a fire claim; the house is owned by a man unmarried to the woman and her children living with him. Will knows how this will end – the house will be replaced or rebuilt, the man will get a new girlfriend, and the woman will find herself and her kids homeless.

It says something about Will that, even as he sees the sameness, it doesn't numb him to people's anguish and pain. It may be that Will is still dealing with his own, even as he masks it from himself. That mask begins to fall when he investigates a claim by Joe Murphy, a 73-year-old widower originally from Chicago. Joe and his wife had moved to the area when Joe retired from the fire department in Chicago; his wife had grown up in the area and wanted to go back. After her death, he stayed, and Joe senses something in Will that needs to be reached. Hoe begins to try to reach whatever it is in Will through literature and music.

It is filled with humor and poignancy, insight and emotion. The reader sees into the soul of an inherently decent man who knows he's broken and has found a way to live with that, until he can't.

Adjustments is more than a good novel; it is a fine novel. It is, simultaneously, moving and real and surprising and true. We see ourselves and our personal histories and, like Will Phillips, we bear scars. This is a story about what matters, and it's told beautifully well.
Author Bio:
Will Willingham was a claim adjuster for nearly 20 years, helping people and insurance companies understand loss. Now, he trains others to do likewise. When he's not scaling small buildings or crunching numbers with his bare hands, he occasionally reads Keats, upside down.