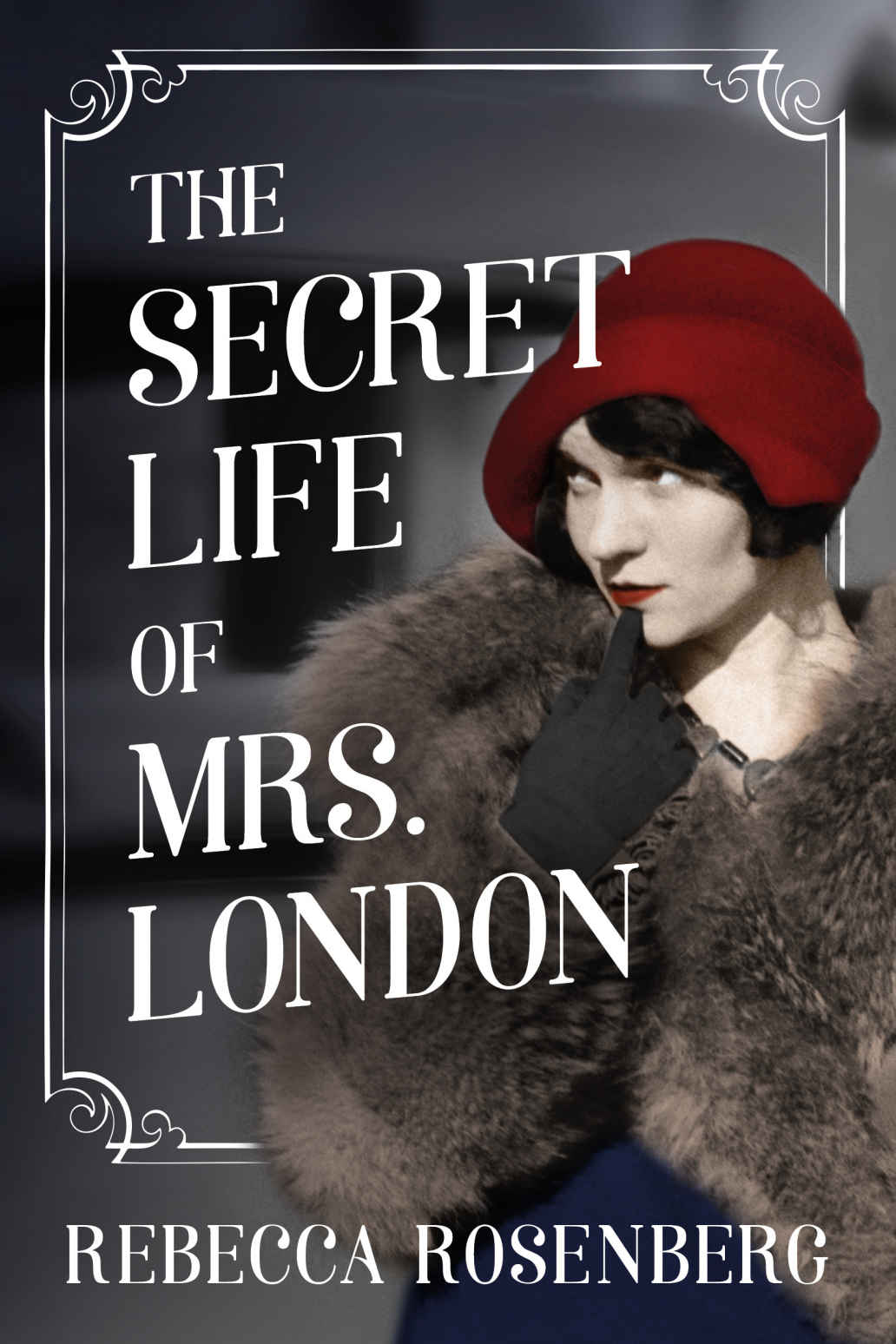 Interview with Rebecca Rosenberg, Author of The Secret Life of Mrs. London
Rebecca Rosenberg is the author of The Secret Life of Mrs. London: A Novel by Rebecca Rosenberg
San Francisco, 1915. As America teeters on the brink of world war, Charmian and her husband, famed novelist Jack London, wrestle with genius and desire, politics and marital competitiveness. Charmian longs to be viewed as an equal partner who put her own career on hold to support her husband, but Jack doesn't see it that way…until Charmian is pulled from the audience during a magic show by escape artist Harry Houdini, a man enmeshed in his own complicated marriage. Suddenly, charmed by the attention Houdini pays her and entranced by his sexual magnetism, Charmian's eyes open to a world of possibilities that could be her escape.
As Charmian grapples with her urge to explore the forbidden, Jack's increasingly reckless behavior threatens her dedication. Now torn between two of history's most mysterious and charismatic figures, she must find the courage to forge her own path, even as she fears the loss of everything she holds dear.
The Secret Life of Mrs London looked like a fabulous book and a person that I don't think anyone has written about before. And I'm a big fan of historical books, so seemed like a great opportunity to ask Rebecca some questions about her book and her writing styles.
Have you ever gotten "reader's block" and how did you get through that?

If I do not know what comes next in a story, I take an hour to free write from the protagonist's point of view, to get things flowing. I reread the last scene and think about the goal of the character. What does she want next? Then I think of the best or most unusual way she can get it, to make it interesting to write and read!
How did you balance writing your story your way and giving readers what they want?

Interesting question. I think they are one in the same! I write novels about real women who lived fascinating lives. Telling their stories well should result in a great read, if I have selected the right women to write about and give it all I've got! For example, Charmian London was Jack London's wife, a, spirited, intellectual, fee-loving, adventurous woman that helped Jack London write his 50 books in 15 years. And Bess Houdini, a tiny showgirl, under 5 feet, but a giant spirit that kept Houdini safe from his own death-defying urges. Compelling women equal compelling stories, I think.
What was an experience you had when you discovered the power of words/language?

I love how you can change the meaning of a sentence with a word. For example: She walked across the room. She skipped across the room. She strutted across the room. She dragged across the room. She swayed across the room. The right word paints a powerful picture.

What's your favorite under the radar novel?

I love The Underground River by Martha Conway. It is an intriguing story of freeing slaves on the riverboats in the Midwest, only this particular boat is a showboat which adds to the fun and intrigue.

How much did real world people influence your characters and do you feel a debt to them?

Since I write about real women, I definitely feel a responsibility to tell their story truthfully, but also, with as much enthusiasm and insight as I can infuse into their story.

How many unpublished or unfinished books do you have? After successfully finishing this book, do you feel any of those could be revisited?

I am currently working on GOLD DIGGER, the story of Baby Doe Tabor, a 20 year old girl who goes west with her husband for a gold mine, becomes pregnant and abandoned, yet becomes the richest, most famous, most scandalized woman in America. True story! Hopefully it's the last rewrite before it goes to my agent and publisher! GOLD DIGGER was the first novel I wrote ten years ago, and I never felt it was finished. Whereas, THE SECRET LIFE OF MRS. LONDON was finished in two years.

I already have a first draft and outlines of my upcoming series, CHAMPAGNE WIDOWS, about the 5 widows between 1800 and 1973 that made champagne a world-wide phenomenon. It takes a lot of discipline to finish the book, before moving on to the next!

What did you edit out of this book?

The scenes that get cut are scenes that may be fascinating, but do not move the story forward. When I write the first draft, I don't know which scenes those are. It becomes apparent in later drafts.

Do you read, or plan on reading, reviews of this book? If so, how do you deal with the good and the bad ones? THE SECRET LIFE OF MRS. LONDON has 4 ½ stars on Amazon and Goodreads, and yes, I've read them all! Here is an example of a one star review:
"Liked everything but the last two books were horrible. "
Does that make sense to anyone? Obviously a one star reviewer did not like the book, but many are mean spirited, and I wonder why they bothered to leave them. Of course, I love reading the 3-5 star reviews, because they enjoyed what I was giving them, and I love learning what they liked and didn't.

10. Do you like audiobooks, e-books, or physical books better? Why?

I do love physical books, such a pleasure to read words on paper. But, I admit I have 200-300 books on my kindle, and I love that rich feeling of books waiting for me to read!

What is the most unusual or surprising element of your writing routine?

I start writing at 4am, with a candle lit and coffee. It is quiet, and my characters can find themselves.

Do you share books before they're done or wait until you have a completed draft?

I meet via ZOOM with my writing group of Stanford novel writing grads who live all over the world. We share scenes for critique. Other than that, I wait until the novel is complete before sharing. If any of you would like to be part of REBECCA'S REVIEW CREW, please email me at rebecca@rebecca-rosenberg.com, and you can review the ARC (advanced reader copy) of GOLD DIGGER!

Do you start out with a concrete plot or let an idea or ideas lead you?

I believe in story structure, which allows you to develop a rough outline and does not stifle creativity.

Do you read any of your own work after publication?

No, too busy reading other author's books, which feed your vocabulary and tool chest of characters, scenes, plot and theme.

Do you have a day job other than writing?

I am a lavender farmer in Sonoma Valley, across from Jack London's Beauty Ranch, which is what inspired me to write a book about Jack and Charmian London, and their fascinating relationship with the Houdinis!

How important is privacy to you as an author? Do you mind fans or plan on adopting a pseudonym?

I invite direct contact with readers! I hope you will follow my facebook groups and check out my website, and most of all, join REBECCA'S REVIEW CREW, rebecca@rebecca-rosenberg.com
FOLLOW: https://www.facebook.com/rebeccarosenbergnovels/
https://www.facebook.com/groups/AmericanHistoricalFictionBookClub/
WEBSITE: http://www.rebecca-rosenberg.com
Email: rebecca@rebecca-rosenberg.com
Buy the Book – Amazon Link – https://amzn.to/2QkMRAi