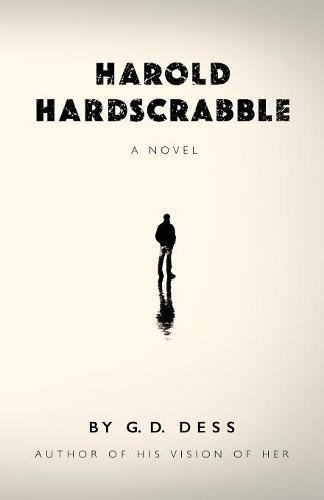 Harold Hardscrabble by G.D. Dess
Story Summary: Harold Hardscrabble, by G. D. Dess, captures the feelings of frustration and helplessness that many of us experience in our daily lives. These sentiments are embodied in the contemplative, quietly charming protagonist, Harold, who, like Walter Mitty, lives largely in his own world of thoughts and dreams. We follow Harold's transformation from a dreamer to a man of action as he struggles to discover how to live a meaningful life in a materialistic world.
Harold copes admirably with the many disasters and injustices that assail him on his life's journey; but when he is finally overcome by circumstances beyond his control, he is forced to take matters into his own hands to attain justice for the all the misfortunes he has been made to suffer. This is a story of a quest for self-realization that unfolds slowly as it builds to its explosive climax.
5 Star Review Manhattan Book Review
https://manhattanbookreview.com/product/harold-hardscrabble/
Harold Hardscrabble met the love of his life in college. Her name is Carol, the attraction, of a physical and intellectual nature, is immediate. Harold sees Carol as having a controlling personality, but he also sees an endearing quality to her vulnerability. They leave college and get married, moving to New York City and to cramped surroundings in an apartment. Harold is an artist within, who is looking for an outlet to unleash the art in his soul, but practicality and his bride push him to the corporate world. Harold works a variety of temp jobs, but his brilliant mind leads to offers of a full time job in a analytical position. Harold still feels insecure but pushes on with the prodding of Carol. The birth of their two children, Jake and Sarah, makes a move to the suburbs an eventuality. Harold thinks back to his time growing up, his propensity to daydream being the fondest of memories. As his children grow, Harold's mind turns to the pitfalls of commercialism, materialism, and the lack of reality that haunts his existence. He attempts to explain his feelings to Carol but is met with indifference. His thoughts start to take a toll on his home and career. His life takes a tilt toward the mortal when he is diagnosed with prostate cancer. His battle and its unpleasant effects take a backseat to Carol's departure. Harold emerges weakened from the cancer, drinking more and looking to de-clutter his existence. Will he ever find happiness? Will he ever overcome his own questions and doubts?

Harold Hardscrabble is an excellent, philosophical tale that explores the life of a brilliant, troubled man and his ups and downs. The reader can identify with many of the quandaries that tax the mind of Harold. The existential crises that haunt the titular character make him sympathetic and worth rooting for. The story bobs and weaves but never fails to hold the attention of the reader. A fine read.
Amazon Link – http://amzn.to/2rfIayX